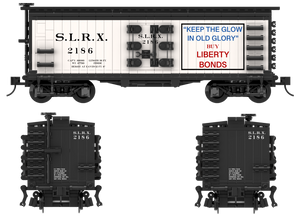 Liberty Bonds St Louis Refrigerator Car Co. 36ft Beer Car 2022 NMRA National Train Show Decal Set
Special Liberty Bonds Scheme: St Louis Refrigerator Car Co. 36ft Beer Car 2022 NMRA National Train Show Limited Edition Decal Set
Note, this is a Pre Order item, details on release date below.
This is Limited Edition Decal Set for building additional St Louis Refrigerator Car Co. cars in the special Liberty Bonds paint scheme. During World War One, many railroads had equipment painted in special schemes promoting causes in support of the American war effort. The Saint Louis Refrigerator Car Company did so by painting an undetermined number of cars in a special paint scheme to promote Liberty Bonds.
As a special bonus, BMR is releasing this paint scheme as an add on to the celebrate the United States Independence this July 4th weekend.
The St. Louis Refrigerator Car Company (SLRX) was a private refrigerator car line established on February 3, 1878, by Anheuser-Busch brewing company. SLRX was formed to facilitate large-scale distribution of Anheuser-Busch's products via the U.S. rail network. The SLRX not only built its own bunkerless reefers, but maintained and operated them as well.
In 1919 the firm was acquired by Manufacturers Railway Company (MRS), another Anheuser-Busch transportation subsidiary that provided switching service to the brewery and interchange connection with the common carrier railroads serving St. Louis.
Cale's design faithfully recreates this Iconic car of the St Louis Car Company. This 36ft bunkerless refrigerator car was used from 1913 through to 1950s. Our model represents this car in its post World War II scheme with white cars sides, an enlarged emblem, and a maroon stripe along the bottom of the car side.
This decal set will complete one car in the special Liberty Bonds paint scheme used during World War One.
Decals are printed on clear vinyl. They are durable, water resistant, and easy to apply.
This limited Edition Decal Set comes with an individualized car number. No two sets will have the same car number, allowing you to build a fleet of cars and not reuse numbers.
Brick Model Railroader is a fan publication about LEGO® brand building bricks. This is not a LEGO product. LEGO, and the LEGO logo are trademarks of the LEGO Group. Brick Model Railroader is not affiliated with or endorsed by The LEGO Group.
---
We Also Recommend